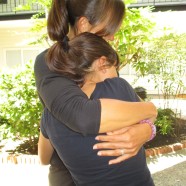 OCD is a mysterious and complex creature that has been controlling my older daughter, Birdy (age 12), for the past several years and robbing her not only from her passions and success but also the basic pleasures of adolescence and joy of life. As a parent, there is nothing more painful and terrifying than watching your child suffer from the oppressive demands of OCD and being controlled by this "inner demon." My husband and I felt helpless, bewildered and full of despair as we witnessed our once vibrant and successful daughter sink further into the trap of OCD until she was "stuck" to the point of being unable to perform even basic life skills: getting out of bed, walking, reading, eating, bathing, etc.…
Historically, Birdy had been a fairly cautious little girl with periods of anxiety starting in the fourth grade, but she seemed to manage her anxiety most of the time, and was highly successful in school, athletics and music. She began her 7th grade year as she had always approached school and life: honor student, competitive swimmer, performing musician, publicist on student council, avid reader, role model big sister and friend to all. But by mid-year she was unable to keep up with the demands of her OCD rituals and compulsions and began isolating herself from everything. Ultimately unable to go to school, swim, read, play her flute, spend time with friends, etc. she became trapped in our home, her actions ruled by fear, anger and frustration. Birdy's entire life became an exhausting sequence of tapping, stomping, and blinking rituals, which were "protecting her from getting sick." As her OCD intensified, and her compulsions seemed to multiply exponentially, Birdy's frustration became unbearable and she began harming herself and running away. Ultimately I had to quit my job to stay home with her and provide full-time care, while we searched to find solutions.
Trying to make sense of it all, my husband and I sought help from OCD books, on-line resources and professionals in our rural community for a couple months, but soon realized that Birdy's condition required a different level of care. All of our research pointed to Exposure and Response Prevention therapy (ERP). We looked at programs all over the country, both inpatient and outpatient programs, hoping to find a program within driving distance. The closest program we found was in the Bay Area, which was 4 hours away. We had family in the Bay Area so we decided to stay with family during the week and drive home for the weekends. Birdy was evaluated for an Intensive Outpatient Program (IOP). I cannot explain the relief we all felt after this initial consultation. The therapist who met with Birdy "normalized" her symptoms and she finally felt like she was being heard, as if her OCD story was being understood for the first time. We left that first appointment feeling a sense of hope and a commitment to the journey of getting our daughter back on track. Birdy began the IOP program with ERP therapy soon thereafter.
Four to six weeks into the program, Birdy started making amazing progress—it was as if her brain was suddenly unlocked and she could apply the tools and strategies she had learned. Though challenging and exhausting, the ERP therapy allowed her to walk ritual free, read once more, play her flute and have fun. Birdy regained her lost abilities and ERP therapy gave her the confidence to move forward on her life path. Through this process our whole family became involved as coaches and supporters for Birdy. Her younger sister helped her with her weekend ERP homework, and my husband and I learned how to be her OCD coaches. While we know that Birdy will never be completely free from her OCD (we like to think of it as her "superpower"), she has learned the tools and developed the coping skills to manage it, which has given her the confidence to face adversity and empower her as a person.
*This story was not solicited by a current patient.